We will take care of you throughout your life
We care for uncomplicated and high-risk pregnancies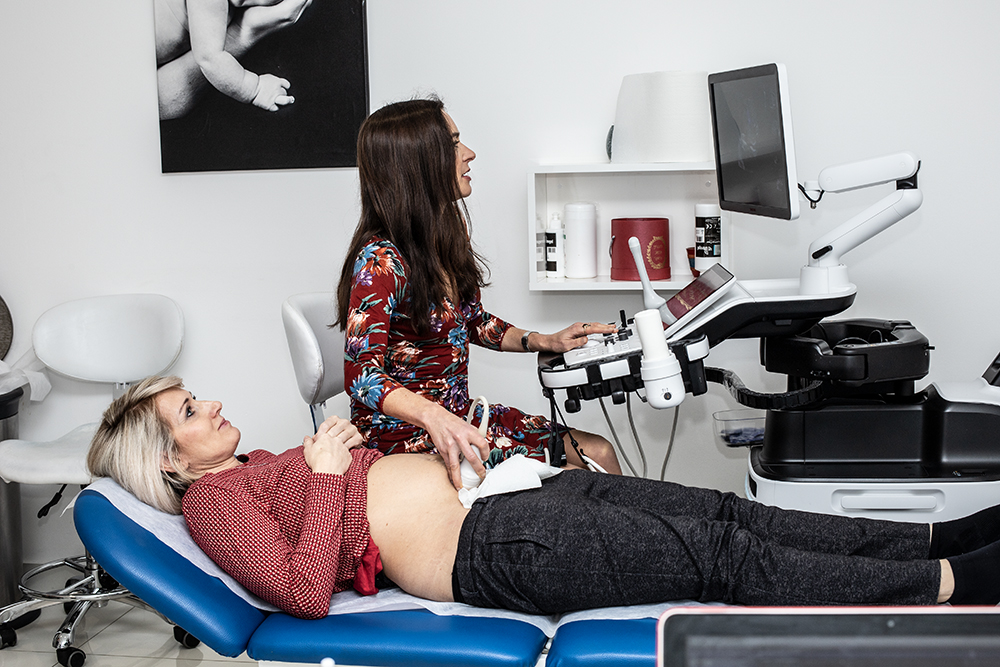 Screening and diagnosis of chromosomal and other genetic fetal defects
Screening and diagnosis of structural fetal defects
Ultrasound scans and prenatal care for multiple pregnancies
Detection, follow-up and management of impaired fetal growth
Screening, prevention and follow-up of maternal complications during pregnancy (pre-eclampsia, gestational diabetes, hypertension and others)
Choose area of your interest:
All our doctors are holders of Fetal Medicine Foundation certificates for all types of ultrasound examinations in pregnancy.
FMF certifikáty jsou zkratkou pro certifikáty Nadace Fetální Medicíny v Londýně. Tato organizace patří Prof. Nicolaidesovi, který jako první popsal vztah hodnoty NT (nuchální translucence- šíjové projasnění) plodu v prvním trimestru a rizika chromozomálních vad. Je zakladatelem prvotrimestrálního screeningu Downova syndromu a dalších genetických vad plodu a vytvořil ve spolupráci se IT specialisty programy pro výpočty rizika Downova a dalších genetických nad. Licenci na používání těchto programů (a základní software, který je zdarma ke stažení) dává k dispozici lékařům celého světa pouze v případě, že vyšetřují podle jím stanoveného protokolu a mají certifikát jeho nadace (FMF certifikát). Určení rizika vad plodu je vypracováno ze statistických hodnocení statisíců těhotenství a je mnohem přesnější, než riziko počítané na malých skupinách těhotenstvími některými menšími centry.
Lékaři, kteří obdrželi FMF certifikáty musí za účelem garance kvality a přesnosti vyšetření každý rok u Nadace Fetální Medicíny v Londýně auditovat výsledky svých vyšetření. Audit probíhá elektronicky a kdo jej nesloží, ztrácí licenci na používání softwaru a certifikát. Může si sice certifikát obnovit, ale je-li to opakovaně, je poslán na školení ke specialistovi, který by vyškolen a získal zkušenosti přímo v Nadaci Fetální Medicíny v Londýně nebo zde prezentoval své znalosti. Certifikace a audity probíhají elektronicky, lékaři však v rámci certifikace také povinně podstupují praktické FMF kurzy u lokálních FMF školitelů v jednotlivých zemích či přímo v Nadaci Fetální Medicíny v Londýně.
Nejvyšším FMF certifikátem je Diploma in Fetal Medicine – jeho držitelé jsou držiteli naprosto všech typů FMF certifikátů, mají zkušenosti z minimálně 2leté praxe a výzkumu v celosvětově nejlepších centrech zabývajících se diagnostikou vad plodu a jsou lokálními FMF školiteli.
MUDr. Veronika Frisová, majitelka a vedoucí lékařka PROFEMY, je právě držitelem Diploma in Fetal Medicine, školitelem Nadace Fetální Medicíny v Londýně a školí teoreticky a prakticky lékaře nejen v České republice, ale po celém světě. Všichni lékaři v Profemě jsou díky jejímu odbornému vedení FMF certifikováni na všechny typy ultrazvukových vyšetření plodu a dodržují FMF protokoly u všech vyšetření.
Are you pregnant and want top care for your baby?